Problems with converting a house into a dental practice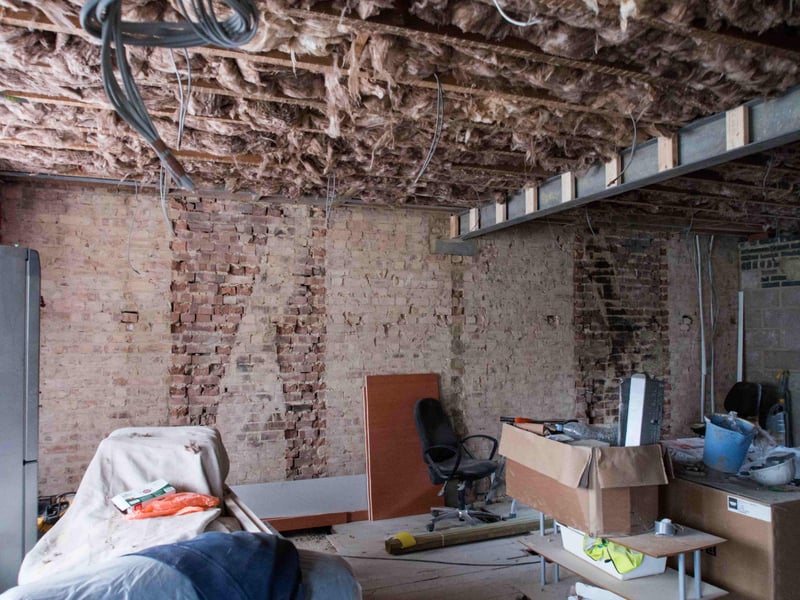 If you're looking for ways to own a dental practice or expand your current services, you may be planning on buying an existing house and converting it into a dental practice. On the surface, this seems like the easiest option because the building already exists, it just needs to be refitted for a finished dental practice.

While this can be a strategic choice in certain situations, there are also a multitude of risks to be aware of. When designing and constructing a dental fitout, careful planning and preparation are critical for ongoing success. While there are several benefits to renovating an existing building, it may be wiser to start your new clinic from scratch.

Throughout our years of working in the dental fitout industry, we've come across various situations with renovation projects. In this article, we outline the common concerns, risks, pitfalls, and frustrations associated with converting an existing house to help you decide whether this is the right route for your project.
Why you shouldn't convert an existing house into a dental practice?
Setting up a dental practice is a costly business. We've outlined the various factors that influence the cost of setting up a dental practice before but many owners question whether it's more or less expensive to use an existing building. After all, the walls, roof, parking, water, and electricity are already present so surely it's cheaper to build on from what exists already.

Surprisingly many of those features can increase the cost and complexity of a renovation. Let's explore a few reasons as to why.
1. Unknown issues
It's not until you start to work that you uncover many of the issues. Rot, subsidence, and water damage may not present on the surface but can appear quickly once the GIB and flooring are removed. If structural these can be costly to remedy.

A new build gives you a clean slate to work from and you can ensure the work is done correctly from the beginning. While you may have anticipated simply being able to run new electrical and plumbing through the building; a load-bearing beam, existing pipework, or lack of space may hinder these plans.

When an issue is discovered during a project, the costs can quickly escalate. Delays cost you money and the longer the project drags on, the bigger the bill at the end. You may be fortunate enough to have a building that holds no surprises, or you could end up like a previous client who found half the existing work had been unconsented and required extensive repairs.
2. Budget blowouts
For many prospective practice owners, renovations are perceived as more cost-effective. However, in our experience, this is the wrong perception. In a renovation project, there is far more work to be done before the fitout itself can proceed, such as taking out wall linings, removing existing fittings, and clearing any debris.

With a renovation project, double handling and unexpected problems are far more common. By the end of the fitout, this can amount to a significant total cost.

While a new build can start from the construction phase a renovation will add an additional phase, demolition. The removal of waste, the trades required to conduct demolition safely, and the additional time on your loans often mean a renovation project is behind before it can get ahead.
3. Delays
Renovating an existing building into a dental clinic, or even renovating an existing dental practice, can be rife with potential delays and unforeseen structural issues. For example, faulty wiring and plumbing tend to appear during demolition or construction, demanding immediate attention.

Once you factor in unpredictable weather, compliance setbacks, and scheduling conflicts, it's not uncommon for a renovation to be delayed weeks or even months, and that's when things are going well.

An existing home's wiring and plumbing won't be up to spec for a dental practice's requirements. This means almost all previous electrical installations need to be removed and upgraded, plumbing too.
4. Zoning
If you are planning to renovate an existing residential building, you may need to apply for re-zoning. As a dental clinic, the building must be zoned for commercial use with wheelchair accessibility, car parks, and wide doorways. You will also need to obtain resource consents, which can be a complex process.

Few older residential houses prioritised modern considerations for accessibility so frames need to be widened, and hallways too. If any of these are load-bearing then the cost quickly increases from something that seemed like a minor job. An unknown fact about parking is that it cannot exceed a certain gradient to ensure everyone can use it, if your driveway or parking area is too steep there may be additional work to flatten this space.
5. Service lines
If you choose to set your clinic up on the ground floor of the building, the service lines will require drilling into the concrete foundations. If the foundation can't be drilled into, a sub-floor will need to be built up to run the lines underneath. For example, the fitout at Peak Orthodontics had to be reconstructed when the original layout of service lines had to be reconsidered.

First floors and above tend to be more affordable because service lines can be installed in the ceiling cavity of the floor below instead.
6. No fixed pricing
New builds are more predictable than renovating an existing building, meaning you can often get a fixed price from your fitout company. Since renovations are prone to delays and often require redesign, the final price is usually more than you initially thought.

At Dentec, we don't offer fixed pricing on renovations because we have previously had projects with structural issues, zoning delays, and inaccessible infrastructure. To gain compliance and deliver on these clients' requests, the projects ended up taking far longer than planned.
7. Limited design options
In most cases, existing walls need to be removed or altered to suit your clinic layout. In other buildings, removing walls is not an option, forcing you to work around the existing layout. This can be hugely problematic for treatment rooms and equipment with particular specifications. Additionally, it leaves no room for expansion in the future.

On the other hand, starting from scratch gives you the flexibility to plan your practice for maximum efficiency. You can position treatment rooms, labs, and waiting rooms according to the best location, not just the existing walls.
8. Increased workload
With a new build project, the contractors can get stuck into the fitout straight away. With a renovation, there are a lot of demolition and safety precautions that need to be completed first. With a dental clinic, anything that comes into contact with a human requires additional protection, which can be a lengthy process for existing buildings.
Renovating vs building a new clinic
While the above risks will deter some clinic owners, renovating can be a great option for others. This will depend on your situation and your clinic needs so consider what your priorities are. If you have an existing clinic that you're looking to renovate then that reduces the risks and unknown issues to a degree (so long as the original build was compliant).

If you are leasing your clinic space, renovating can make your investment more worthwhile in the long term. However, this will require careful planning and budgeting, so speak to the Dentec team for expert advice.

If you own an existing building, see our article explaining the typical costs of renovating. Sometimes it is the best way to own your clinic but it pays to know what lies ahead.

Fitting out a newer space is usually the most efficient option. With a newer building, you have a blank canvas that can be designed to suit your patients, services, and clinic brand. This also eliminates the likelihood of unexpected surprises arising during the project.

Whichever approach you take, we are here to help. Find out about our eight-stage fitout process, check out our helpful resources for tips to help you plan ahead or contact our team for expert advice.