10 questions to ask before you buy dental equipment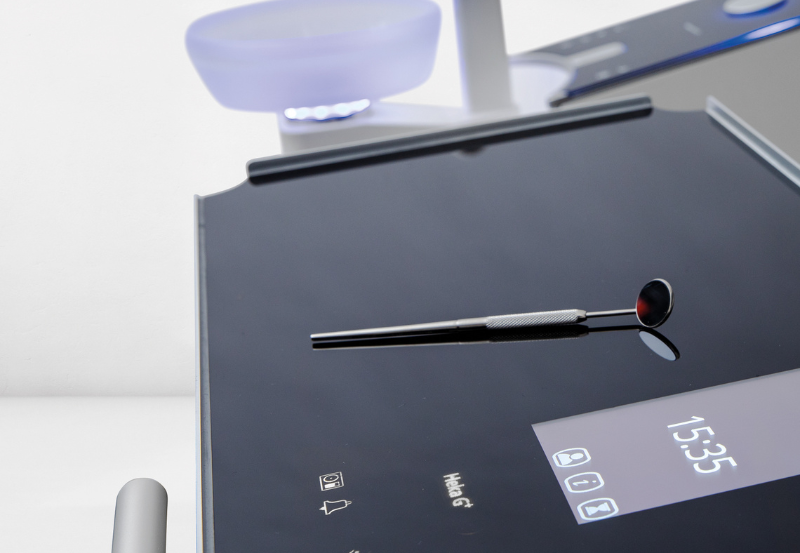 Purchasing new equipment for your dental practice is a significant and vital investment as your practice expands or your equipment ages. Depending on your priorities, there are several considerations when selecting each new tool to make sure it is a suitable solution for your patients, staff, and future growth.
To help you determine which dental equipment is best suited to your practice and what attributes to look for, we have put together a list of ten questions to simplify the process.
1. WHAT IS THE DENTAL EQUIPMENT COST?
If your practice is looking to grow, you will need to make investments. The question is, which equipment is worth the money? To start with, assess the pricing of your new equipment and compare it to the clinic's projected growth. If it will increase efficiency and enable you to service more patients, the cost may be worthwhile.

Without this investment, you may find margins decline and profits are reduced. Continue on that path for too long and the idea of spending money to rectify the situation could be harder.

For more information on equipment pricing, read our article about the cost of a dental practice or get a quote on the individual listings in our full range of dental equipment.
2. Will it improve patient experience?
The equipment you choose has a massive impact on the experience of your patients, whether it be positive or negative. To guarantee your patients remember their visit for the right reasons, be sure to opt for equipment that is comfortable, ergonomic, and dependable.
Increasingly, dental patients expect their providers to use equipment that is technologically advanced, with better efficiency and accuracy. To keep up with these developments, it may also be worth investing in some of the digital devices that are now available.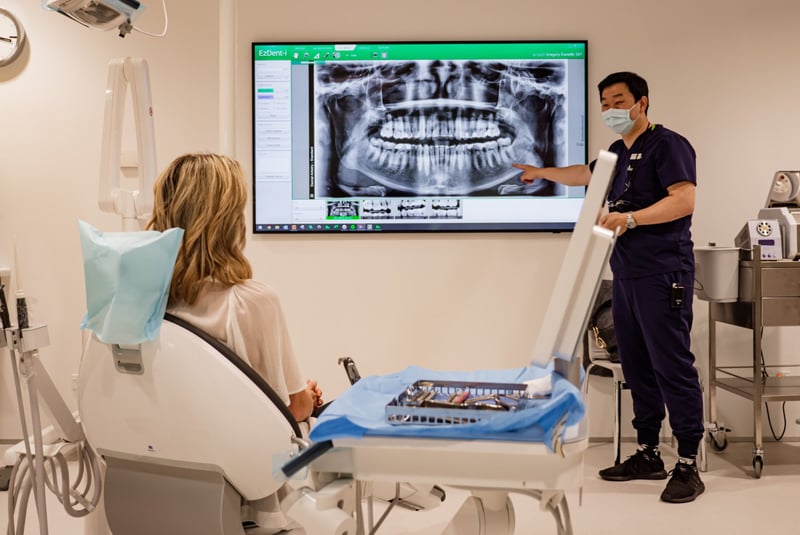 For a start, why not take a look at the best dental chairs in the New Zealand market? From the bare essentials to advanced models, these chairs will provide your patients with a pleasant, stress-free appointment.
3. WILL IT ATTRACT QUALITY DENTISTS TO WORK FOR YOUR CLINIC?
When choosing new equipment for your practice, it's worth considering whether it will appeal to existing and prospective employees. By opting for higher-quality models, you can be certain that leading dental practitioners will be eager to work with you.
Dentists often decide to work for a practice based on the facilities it uses, depending on the ease of use, care capabilities, and diagnostic accuracy. So, to increase staff retention, investing in state-of-the-art facilities will improve your staff's well-being, productivity, and morale.
4. WILL IT HELP PROMOTE YOUR DENTAL CLINIC TO MORE PATIENTS?
In a competitive environment, it's important to stand out every chance you get — including with your choice of equipment. By providing dental services with quality tools and facilities, you can boost the appeal of your practice in the local area.
To increase your local reach, consider how different tools and services will appeal to more people. For example, if you can offer high-definition 3D imaging, you will attract patients who cannot find it elsewhere.
5. Does it complement your existing fitout?
As well as improving the functionality of your services, equipment also contributes to the overall style and atmosphere of the practice. While the main priority is to provide high-quality dental services, the way your patients feel during their visits is a significant part of that.
To keep your practice a cut above the rest, consider how the new equipment will complement the existing fitout. Or go a step further and consider changing the overall layout and design of your practice at the same time. With a more appealing fitout, your patients will be more inclined to return.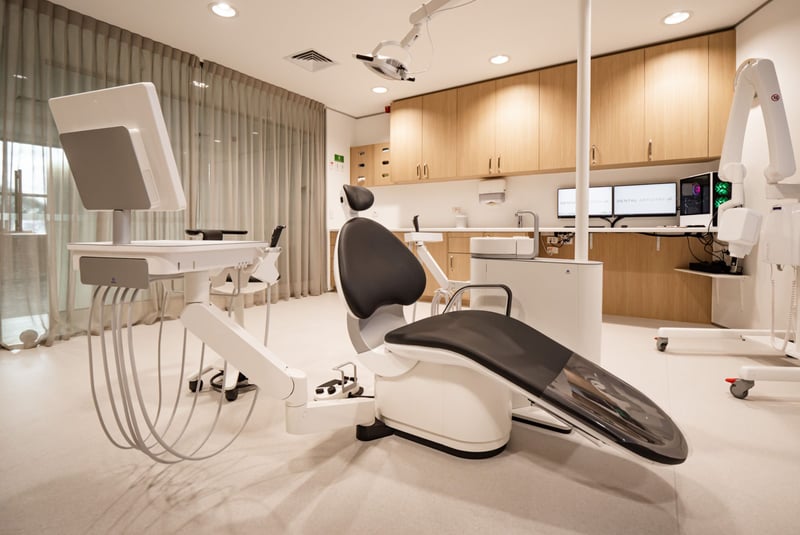 For example, our recent project at Dental Artistry in Newmarket achieved a calming and aesthetically pleasing environment by choosing equipment with neutral tones. Paired with natural textures and lush greenery, the overall result is sure to impress.
6. WILL IT REDUCE OPERATIONAL COSTS?
Modern dental equipment uses efficient technology that requires less energy and creates less waste. From intelligent power management to LED technology that lowers power consumption, new dental equipment could reduce your expenses as they're used.
In addition to using resources less efficiently, older technology will also lead to waste from worn parts. From eventual water leaks in hosing to general wear and tear, these older machines typically costs more in ongoing bills and lost revenue from downtime. A newer machine may incur a higher up-front cost, but it can offset some of those ongoing expenses.
7. IS THE EQUIPMENT USER FRIENDLY?
If you choose dental equipment that is cumbersome, dated, and inefficient, your patients and staff will notice. To keep your practice running smoothly, you need to invest in tools that facilitate effective, dependable service.
For example, choosing a dental chair that is pre-programmed for each position is far more convenient for your team than a rigid, manually adjusted model.
8. IS IT LOW MAINTENANCE?
You should also take into account the ongoing management and maintenance of your equipment. If you opt for 'cheaper' or are running an older model, you are likely to come up against mechanical issues and technical problems before long. However, a well-designed option with comprehensive warranties should withstand repeated use.
On top of that, most equipment requires a qualified technician to complete servicing and replacements. Before committing to a particular dental equipment supplier, make sure you can get these specialised services in your local area.
At Dentec, we operate nationwide to help dentists get their practices up and running. From initial fitouts to one-off equipment upgrades, just let us know what you need.
9. WHAT ARE THE LIFETIME COSTS?
When considering the servicing, maintenance, and repair costs of an older model versus a newer one, calculate the costs that will add up over time and apply these questions to a cheaper model versus a more expensive one. If a cheaper model will produce twice the lifetime costs, would it provide a faster return on investment than a more expensive model?
Ask your dental equipment specialist what the average call-out volume is for a particular model. How many times have they had to service, repair, or replace the machine? What's the average cost of a service and how accessible are parts?
When the machine is out of action it costs you money in lost or delayed appointments. Make sure your dental equipment works for you and not against you before you purchase.
10. CAN YOU GET DENTAL FINANCE FOR THIS EQUIPMENT?
Dental equipment is a major investment, with a range of prices depending on the quality, capabilities, and specialisations of the models you choose. In some cases, you may be able to get financing for new tools. From business loans to dental-specific loans, financing can allow you to opt for a superior model than you might otherwise be able to afford.
At Dentec, we recommend looking into financing with DLL. Where there is a registered medical professional noted as a director of the borrowing entity, DLL can provide credit limits of $500,000 for the use of capital equipment.
These loans are up to 5 years, come with flexible payment structures, and include bundled solutions so you are sure to find a solution that works for you.
DENTAL EQUIPMENT NZ
When selecting new equipment for your dental surgery, it all comes down to providing premium healthcare to your valued patients.

To start with, use our practical equipment checklist for waiting rooms and treatment rooms or browse our range for yourself. Our equipment includes chairs, compressors, sterilisation, lighting, laboratory, suction, imaging, and handpieces.
Dental chairs
Is the chair easy to clean?
Is it comfortable for a range of patients?
Does it have adjustable backrests, headrests, and armrests?
Does it have ergonomic controls?
At Dentec, our range of dental patient chairs are manufactured by Heka and ANCAR.
Compressors
Does it provide clean, dry, oil-free air?
How much air do you need to operate your dental tools?
Does it operate quietly?
Does it take up too much space?
At Dentec, we supply Cattani compressors because they are hygienic, efficient, and easy to use. They can service anything from a single-chair to a multi-chair practice.
Sterilisation and hygiene
Does it comply with New Zealand hygiene standards?
Is it energy efficient?
Is it compatible with your dental instruments and other equipment?
Does the cycle speed align with your clinic's workflow?
We supply a range of sterilisation equipment from brands like Melag and Elma, including dental autoclaves, washer disinfectors, ultrasonic baths, water treatment units, and more.
Lighting
Do you have a mixture of task, ambient, and accent lighting?
Are lighting settings adjustable?
Is it energy efficient?
Does it ensure patient comfort?
Our dental practice lighting is manufactured by Faro, offering advanced light performance, unparalleled ergonomics, and reduced eye fatigue.
Laboratory
Does it provide a precise and accurate result?
Is it ergonomic and easy to use?
Our laboratory equipment is from the NSK Presto range, making oil-free ceramic cutting a lot easier. This ensures comfort and ease of operation, reduced fatigue, and better operational efficiency.
Suction systems
Is it a high-volume evacuator (HVE), saliva ejector, or central vacuum system?
What infection control does it offer?
How much noise does it produce?
We supply dental suction systems from Cattani. From the small, quiet Micro SMART model to the powerful Turbo SMART range, you can find a suction system to suit your unique needs.
Imaging and 3D printing
Does it use digital radiography (X-rays), cone-beam computed tomography (CBCT), intraoral cameras, or 3D scanners?
How is the image quality?
Is radiation exposure minimised?
How does it integrate with your software, image processing, and image storage?
We supply premium dental imaging and printing equipment from Owandy, Ray, and Acteon.

The Dentec team has worked on dental clinics of all shapes and sizes. Whether you need a complete transformation or a simple equipment upgrade, you'll get healthcare strategy, project consulting, interior design, project management, new equipment, and post-project services.

Browse our full range of dental equipment to find the ideal tools for your clinic or contact us to get tailored advice.